[Photo: courtesy AMP Robotics]
BY ADELE PETERS
Source: www.fastcompany.com, November 2019

---
The global recycling system is collapsing largely because it's been difficult for recyclers to accurately separate different materials. Robots can help.
Inside a sprawling recycling center in Florida, as bottles, cans, boxes, and other recyclables move down conveyor belts, 14 different robots use artificial intelligence to identify each material and automatically sort it, moving twice as quickly as humans doing the same job. The center, called Single Stream Recyclers, is one of the latest to install technology from Amp Robotics, a Colorado-based startup that wants to help the recycling industry deal with its current challenges.
"We think that this will be transformative technology for the recycling industry, because for the first time, you can see and understand all of these different consumer packaged goods, and if you can see and sense that and record what's going on, that opens up all kinds of automation," says Matanya Horowitz, founder and chief executive officer at AMP Robotics. The company announced today that it has raised $16 million in a series A round of funding led by Sequoia Capital, which is investing in the circular economy for the first time.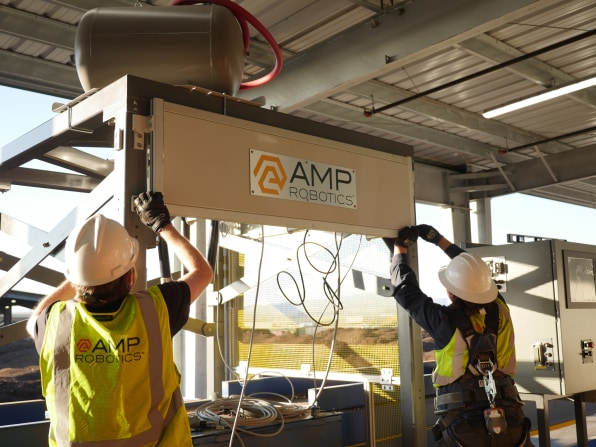 The recycling industry in the U.S. is still in crisis nearly two years after China banned imports of low-value recycling—a ban that made sense, since some shipments were so poorly sorted or contaminated with garbage that they were nearly worthless. American recycling infrastructure wasn't working well, in part because it had previously been easy to outsource the quality challenges to China. As U.S. recyclers struggled to find buyers without China, some cities started sending some recyclables to landfills or incinerators; many cities have cut back on the types of material that they accept, or even canceled curbside recycling completely.
Now, new recycling infrastructure is being built in the U.S. to help fill the gap. But the challenge of sorting out high-value materials still remains. One piece of the problem is what happens at recycling bins, since consumers are often confused about what's actually recyclable. The next problem is what happens at the centers that sort through truckloads of recycling waste from cities.