By Morgan Bulman
Source: www.floorcoveringweekly.com, March 2020
---
Neutral or colorful, minimalist or maximalist, there are a lot of interior styles to choose from today but no matter the scope or type of project, designers agreed that putting client needs first is the most important.
Trends, they said, should fit naturally, not overpower or contradict the potential resident's personality. From brass hardware's comeback to emerald cabinets, the choices can become complicated, which is why FCW spoke with designers from across the country to hear what they're looking forward to working on the most in 2020.
Kitchens First
When it comes to redecorating, Margo Johnson of New York-based Margo Johnson Design noted her clients gravitate more towards overhauling their kitchen than any other room in the home.
Reaching New Heights
In her experience, Johnson has seen the role of kitchens change dramatically from cooking-only to a place of conversation and entertainment. She designs with all types of gatherings in mind, from parties to meetings. And, for this apartment on Schermerhorn Street in Brooklyn, N.Y., Johnson made sure to accentuate the height of the space with white shaker cabinets and a light color palette.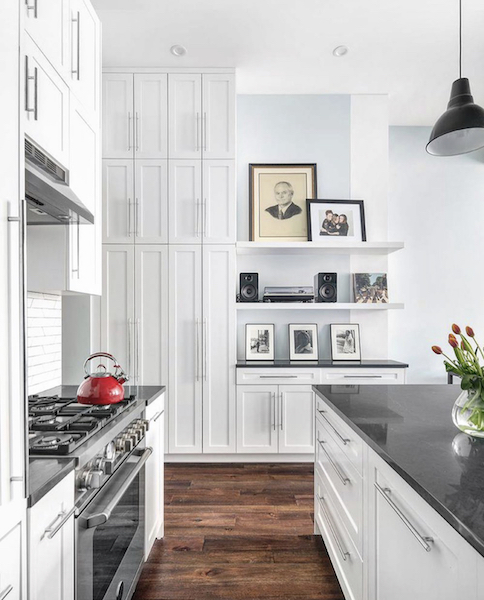 Juxtaposing Modern & Old 
Jennifer Ferrandi of NoMad Design in Arizona took on a spec house with the goal of appealing to as many potential buyers as possible without appearing bland. Her main elements included a quartzite stone countertop and waterfall island, reclaimed ceiling beams and tiled open cabinets with a glazed brick, all complete with white oak floors.
"I think after years of modern farmhouse all white kitchens with white subway tile that people are enjoying the warmth the white oak is adding and welcoming subway tile in new finishes and sizes," she explained. "If I had to give a name to this style, I would say Napa style or Belgium farmhouse, those seem to be the new buzzwords."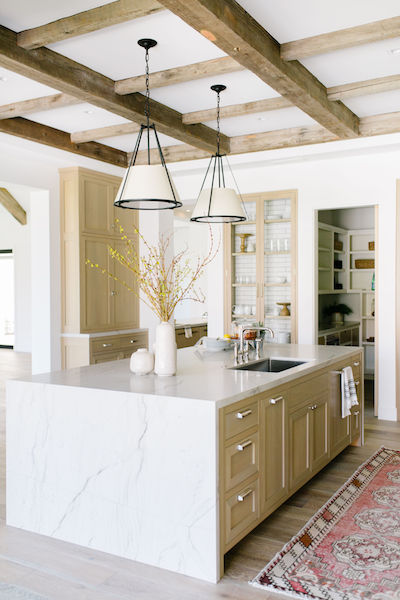 Color Burst
"Color is everywhere right now. It's in magazines, catalogs and dominating your Instagram feeds," Jenny Rausch, president of Karr Bick Kitchen & Bath, told FCW. "Shades of blues, greens and pinks are used in all levels of home furnishing, accessories, cabinets and tile. It's a very exciting time to be in the field of design."
Blessed by Blue
Rausch's dream kitchen project would pair deep green cabinets with wicker light fixtures and stools. But for now, she resigns gray, white and black are still the most popular cabinet colors as the idea of color — although dominant — is still new. However, this client was happy to take on a bright blue. "The bar in that background was inspired by a picture we found on Instagram. That barrel arch was not easy, but the impact of shape and texture makes the space," she added.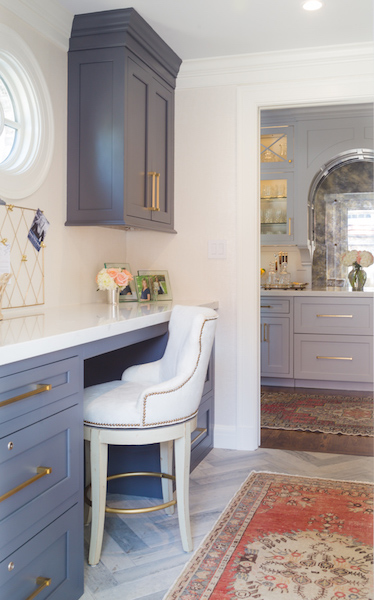 Dark & Dramatic
The rest of this home follows through on a light and bright trend, but Ferrandi noted her client sought one dark, cozy living space. "A dark navy and gray printed carpet from Prestige Mills was specified and custom millwork with brass hardware was designed to match," she explained. "Bold navy millwork in a fresh square pattern gave walls an old-world library feel while over scaled art of an old GQ magazine cover keep the space from becoming too serious."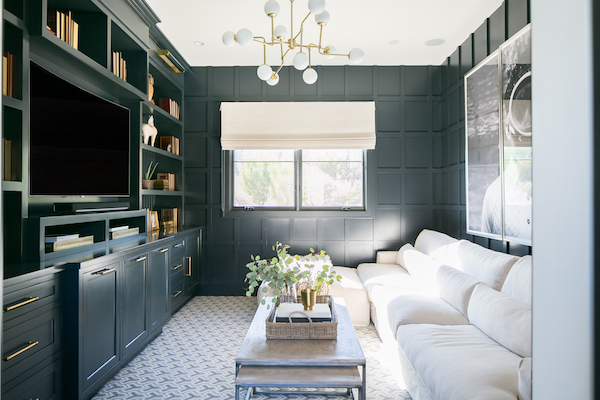 Neutral & Natural
One of the biggest trends Johnson has recently experienced is the increasing interest in  natural looks. "This year I think we will definitely see a lot of light raw wood finishes," she offered. "I am definitely gravitating towards these on several of my projects and am seeing other designers doing the same."
Lovely Linen & Gray Wood
Pacita Wilson of Pineapple Park in Woodstock, Ga., said there's still strength in a neutral palette, although she has been introducing more blues, greens and other pops of colors. "It's timeless," she said. "I'd describe this space as rustic elegance — the lighting, the three pendants over the kitchen are a distressed wood painted in white, and the iron has a more rustic feel."
For Wilson, helping a client pick out a floor finish is one of her primary priorities, as it often sets the tone for the whole room. "For this home specifically, we gutted it and redid it in its entirety. We took out two wall and re-did all the wood floors, which are actually red oak, but finished them to be a darker, warmer gray." Wilson's contractor specifically used a mixture of Duraseal's classic gray, country white and true black after sanding the floors down and features one coat of Bona's water based sealer and three coats of Bona Traffic in HD Satin.
Metals & Marbles
Rausch informed FCW that when designing, Karr Bick often starts safe before going bold, playing with color and texture after first ensuring what fits in the existing home environment. This bathroom's bold moment, Rausch noted, was the departure from a glass shower enclosure. She added, "The exposed plumbing was a nod to the home's age. The tile is a mixture of onyx and marble divided at just the right height."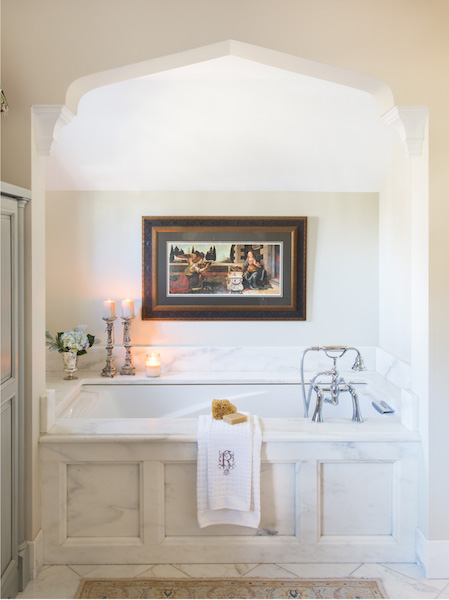 Trends a la Jennifer Ferrandi, NoMad Design:
• Wicker:  I've noticed a huge surge in wicker. From light fixtures, mirrors to furniture.
• Green:  Green is getting ready to have a big moment.
• Arches:  The crisp architecture we have been seeing the past few years is softening up. Arches are making a huge comeback in interiors.
• Kitchen Ledges:  I am seeing multiple open shelves give way to a single marble ledge/shelf.
• Mixing Metals:  I think people are feeling more secure that brass is not just a bad fad from the 80s that was making a comeback. It is becoming accepted as a mainstream for plumbing and light fixtures. The addition of brass on the scene has made people become more comfortable with mixing different metals. It is not uncommon now to see polished nickel plumbing and cabinet hardware with brushed gold light fixtures and mirrors.